The 2021 TSNN Awards wrapped up a spectacular two-day event, held Dec. 1-2 at Mohegan Sun in Uncasville, Conn., with a few dozen shows and trade show professionals winning awards in a variety of categories.
"TSNN was absolutely thrilled to partner with the Mohegan Sun on this celebratory event," said TSNN President Rachel Wimberly. "It was a much-needed breath of fresh air to celebrate this industry, especially the great people and innovation. The Mohegan Sun team did a fantastic job on the awards and really rolled out the red carpet in a big way for these prestigious attendees!
The first award of the evening, the TSNN Award for Overall Fastest-growing Show for Attendance, was won by IBEX – The International Boatbuilders' Conference & Exhibition.
"I am so glad I made the effort to attend the TSNN event," said IBEX Show Director Anne Dunbar. "All of us were impressed with the Mohegan Sun Hotel & Casino and their team did an outstanding job of showcasing all the property has to offer."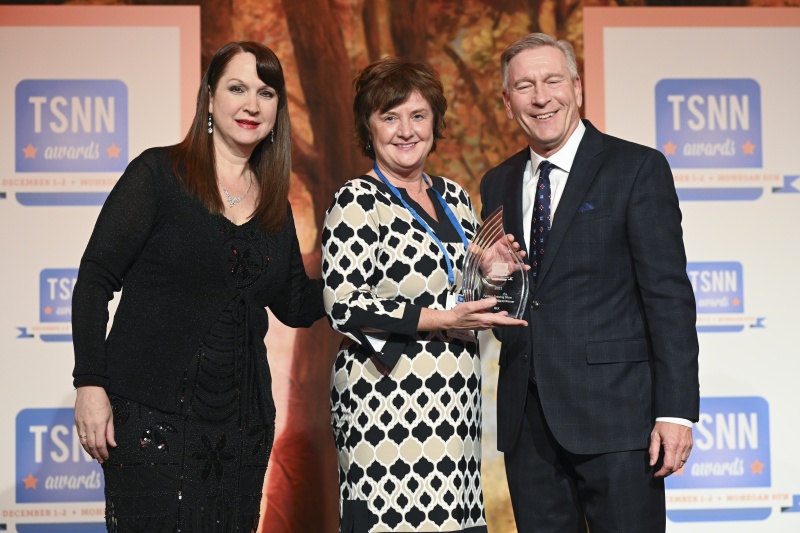 She added, "Plus, it was great to see and spend time with so many industry friends and make new connections. The IBEX Team is thrilled to be honored as the Fastest-growing Show and accepting the award during the final evening gala was a great way to end an exceptional two-day event. Thank you TSNN!"
MJBizCon was the next award honored on the stage, winning the TSNN Award for Overall Fastest-growing show for Net Square Footage.
The night continued with a bevy of other award winners in the Best of Innovation categories, including:
CONEXPO-CON/AGG - Best Use of Technology Winner
World of Concrete - Brave, Courageous, Adaptable Winner
Channel Partners Conference & Expo - Created a Community Winner
Veterinary Meeting & Expo (VMX) 2021 - Hybrid/Virtual Winner
The Utility Expo - Savvy Marketing Campaign Winner
Dallas Market Center June 2021 Markets - Trailblazer Winner
Individual awards were given to several deserving individuals:
Herve Sedky – President/CEO, Emerald – TSNN Industry Icon Award
Douglas Emslie – CEO, Tarsus Group – TSNN Humanitarian Award
Mary Larkin – President, Diversified Communications – TSNN Women's Leadership Award
Martha Donato – President, Mad Event Management – TSNN Women's Leadership Award
Raymond Rhodes - Global Director, Inclusion & Diversity, RX – TSNN DEO Leadership Award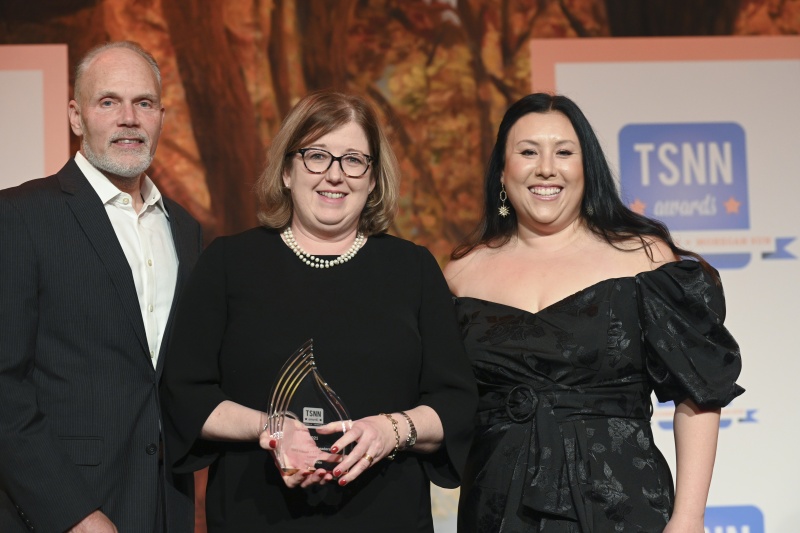 "I am genuinely honored to receive the 2021 TSNN Humanitarian award," Emslie said. "It is especially meaningful for me to be recognized by the industry – so many people and organizations across the events industry have generously supported the challenges that I have undertaken for charitable causes over the years."
He continued, "Planning and completing the Event Industry Backyard Ultra this year was undoubtedly my biggest undertaking to date and was only made possible by all the support I received. Together we raised over $42,000, and I was so happy to be able to do something to help those from our industry who were impacted by the pandemic."
In addition, special awards were given to Clarion's WWIN, Tarsus Group's Offprice Show and Informa's MAGIC show for their unique collaboration in Orlando in February, as well as the TSNN Sustainability Award to Natural Products Expo East.
Part of the evening also celebrated eight Outstanding Show Pros, who were honored for the leadership and innovation.
The show organizers included: Todd Moritz, Martha Donato, Andria Gibbon, Michelle Swayze, Lydia Janow, Dorothy Belshaw, Manolita Moore and Gene O'Neill.
"Thank you so much, Rachel and the TSNN Team for organizing and hosting the 2021 TSNN event – what an experience!" said Manolita Moore, NAVC's vice president of exhibit sales and operations. "The Mohegan Sun venue was outstanding, from the moment I arrived until my departure. The food and restaurant selections were superb and the hospitality from all the staff was unmatched. The event itself was so well orchestrated."
She added, "As a winner of the Outstanding Show Pro Award, I was so honored and felt really special to be selected amongst the high caliber individuals in the industry. Thank you for hosting this special event, especially in spite of the ongoing global pandemic. Well done! Congratulations!"